Celebrating 2 decades of TAVI: How 1 inventor, pioneer pushed heart history forward
Renowned French physician, interventional cardiologist Alain G. Cribier recognizes advancements, achievements of 20-year TAVI journey at AP VALVES & SH 2022
One clinician bound and determined to "solve a major unmet clinical need" changed medical history with the world's first transcatheter aortic valve intervention (TAVI), providing a life-saving therapeutic option for thousands of patients with aortic stenosis (AS) worldwide.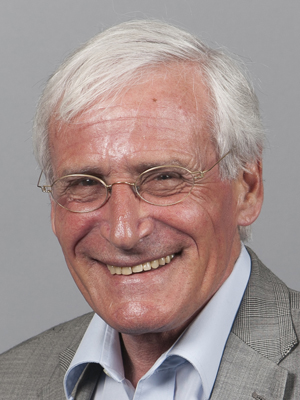 Alain G. Cribier, MD(University of Rouen's Charles Nicolle Hospital, Paris, France) innovator and executor of the groundbreaking intervention, celebrated the 20th anniversary of TAVI at AP VALVES & STRUCTURAL HEART 2022, which kicked off Aug 11 at the Grand Walkerhill Seoul in South Korea.
TAVI, which is also called transcatheter aortic valve replacement (TAVR), is a minimally invasive treatment option for patients with severe, symptomatic AS who are not eligible for surgery. Before TAVI, surgical aortic valve replacement (SAVR) was solely the standard of care.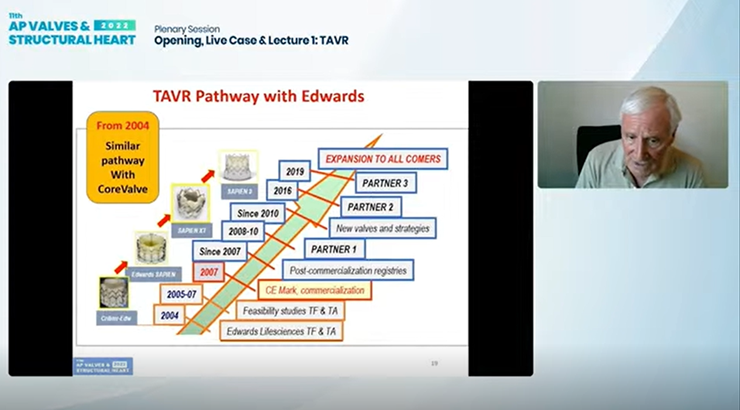 TAVR pioneer Alain G. Cribier, MD outlines the history of TAVR and THVs during a remote presentation at the 11th AP VALVES & STRUCTURAL HEART 2022 conference held in Seoul, South Korea on Aug 11.
Developing TAVR was always about helping patients. It was a long road, but it was worth the fight,
Although critics initially dismissed the "impossible" idea that originated 30 years ago, that didn't stop Cribier from turning the concept to reality, and he completed the first TAVR operation on Apr 16, 2002, in Rouen, France on a 57-year-old male patient with severe symptoms that had made 3 surgical teams turn him down from surgery.
Before TAVI, Cribier also developed and performed the world's first balloon aortic valvuloplasty (BAV) in 1985 - which utilizes balloon dilation to enlarge aortic valve orifice - and the first mitral commissurotomy (FIM) in 1995, both of which were novel ideas at the time.
"It was an attempt to solve a major unmet clinical need," he said. "Studies at the time showed that patients who were not eligible for SAVR - which accounted for 50% of patients in the 1980s - had a 2-year mortality rate of 80%," he said.
"Over the past 40 years, the progression of cardiac catheterization techniques for degenerative AS can be divided into two distinct 'seasons: the first BAV in 1985 and the first TAVI in 2002.
"These two linked innovations shared a single goal, which was to provide life-saving therapeutic options for patients with asymptomatic AS not eligible for SAVR."
The success and development of BAV had the "effect of a bomb" in the medical community, setting off thousands of BAV operations worldwide from 1986 to 1992 and more 1,250 related publications including those from the National Heart, Lung, and Blood Institute (NHLBI) and Mansfield registries.
These innovations share a single goal, which is to provide life-saving therapeutic options for patients with asymptomatic AS not eligible for SAVR,
However, BAV carried one major, "unacceptable" limitation of early restenosis that steered Cribier to conceive the concept of TAVI, which he detailed in 1990 as a process of "implanting a valve prosthesis within the diseased calcific native valve, on the beating heart, using regular percutaneous catheter-based techniques and local anesthesia."
"The question was whether a balloon expandable stent could be used to keep the valve open and how to design the structure of a transcatheter heart valve (THV) that would allow for high radial force balloon expansion with an external cuff.
"Experts from biomedical companies said it was 'crazy' and 'impossible' since it involved heavily calcified valves and risky surrounding structures like the coronary ostia, mitral valve and His bundle.
"They told me there was no chance of crossing a diseased valve with a prosthesis and deploying it and feared it would cause 'unavoidable life-threatening' complications," Cribier recalled. "But that wasn't the end of the story."
With no potential sponsors, Cribier launched a New Jersey-based startup called Percutaneous Valve Technologies (PVT) with colleagues Stanton Rowe (CEO of NXT Biomedical, California, USA), Stanley Rabinovich (Principal owner of SBR MedTech Consulting, New Jersey, USA) and Martin B. Leon, MD (Columbia University Irving Medical Center; Cardiovascular Research Foundation (CRF), New York, USA).
Despite initial struggles, the startup went on to partner with Israeli biopharmaceutical company Aran R&D (Caesarea, Israel), which quickly helped realize Cribier's designs for a prototype prosthesis.
After running pre-clinical evaluations in animal models, Cribier implemented the prosthesis in the historic first human TAVI procedure in 2002.
PVT was later acquired by Edwards Lifesciences for $125 million in 2004, prompting the well-known evolution of the initial Criber-Edwards valve to the Edwards-Sapien valve and finally to the Sapien valve series that are held as the industry standard.
They told me there was no chance of crossing a diseased valve with a prosthesis and deploying it, fearing it would cause 'unavoidable, life-threatening' complications.
Creation of different valves, including the self-expanding CoreValve (Medtronic, USA), "highly contributed to the incredible expansion of TAVI," Cribier said, and development of both the transfemoral and transapical access approach further expanded TAVI to "nearly 100% of candidates."
A series of landmark studies, including the PARTNER 3 and Evolut Low Risk trials, have since galvanized the once experimental operation to preferred treatment for many patients with AS, including patients who are younger and at low operative risk, where SAVR was the gold standard.
After gaining the CE Mark in Europe in 2007 and the U.S. Food and Drug Administration's (FDA) approval in 2012, TAVI gained expanded indications in the U.S. in Aug 2019 for low-risk patients over 65 years of age, marking its "apotheosis."
"The spectacular worldwide expansion with Sapien3 and Evolut (Medtronic) can be seen through the numbers: more than 15 million patients treated with TAVR in over 80 countries and a four-fold growth rate expected over the next decade."
"But it's not about numbers, and it never was. Developing TAVR was about helping patients I met in my personal experience, and I always tried to move beyond the horizon.
"It was a long road, but it was worth the fight."
Edited by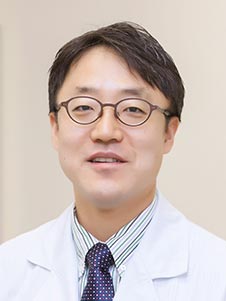 Duk-Woo Park, MD
Asan Medical Center, Korea (Republic of)
Written by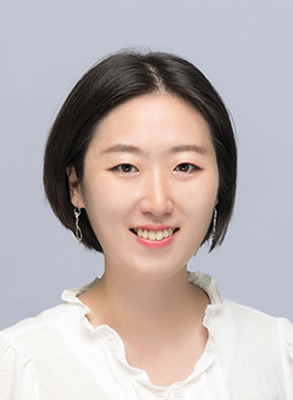 Cribier, Alain, et al. "Percutaneous Transcatheter Implantation of an Aortic Valve Prosthesis for Calcific Aortic Stenosis." Circulation, vol. 106, no. 24, 2002, pp. 3006–3008., doi:10.1161/01.cir.0000047200.36165.b8.
Cribier disclosed consulting fees from Edwards Lifesciences and service as an advisory board member for Cardiawave and Meril Life Sciences.